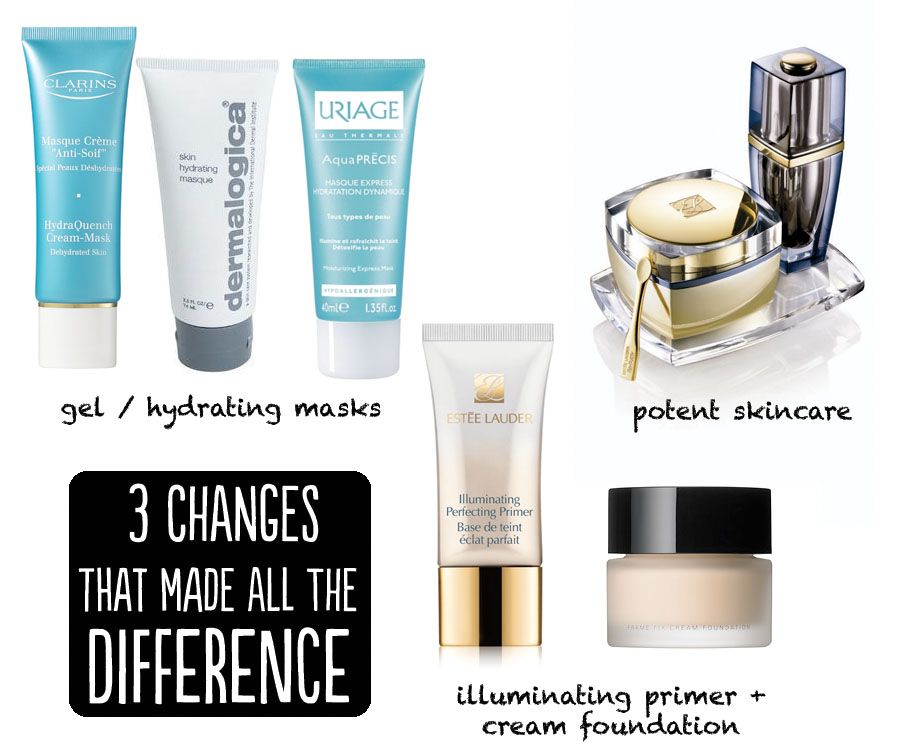 During the recent Beauty Swatch 3rd Anniversary giveaway, a reader kindly reminded me that my skincare posts were sorely missed.   The truth behind why it's taken me this long to write another one up is because I've been experimenting with a new skincare routine.
And after much trial & error, I think I may have hit the jackpot.
Here's 3 changes to my routine that have made ALL THE DIFFERENCE.
Turn to cream/gel hydrating masks for best results

As much as I love the sensation that Facial Cloth Mask gives, I find them to be "quick fixes" only especially in winter time.   To help my skin survive dehydration, I alternate between Dermalogica Skin Hydrating Mask (RRP: $61.50 AUD) and Clarins Hydra Quench Mask (RRP: $62 AUD).  Dermalogica's is a clear gel formula that's deceptively simple in appearance, but is actually really calming and provides long lasting hydration that lasts for  days.  Clarins' is a creamy texture that softens and soothes, calming any irritation that may have been brought about by dehydration.  If I'm short of time, I use Uriage Aqua Precis Moisturizing Express Mask* (RRP: $39.95 AUD) – it's fast acting and only needs 5 minutes, perfect for a boost before heading out the door.
Winter conditions calls for potent measures

Lately, I owe my skin to Estee Lauder Re-Nutriv Re-Creation Face Creme & Night Serum (RRP: $1,350 AUD), made with their highest concentration of the precious & rarest collagen-boosting and skin renewing ingredients.  The serum is like a fine oil that absorbs instantly without any residue, and whenever I apply it overnight, the next morning my skin always looks plump,  fine lines softened and out of sight, and well slept like it's forever on holiday.  As for the Face Creme, I am hopelessly hooked on it as it's been the ONLY product that keeps my skin hydrated, soft and resilient to air conditioning and the winter snap.   The creams I used last year are no longer hydrating enough for me, so I'm freaking out about hitting pan on this product.
Get your glow on with cream foundation paired with illuminating primer

Lately BB cream hasn't been working well on my skin – sheer formulas do little to protect moisture loss & moisturising formulas still end up looking blotchy by the afternoon, even though skin still feels hydrated.  I've since switched to SUQQU Frame Fix Cream Foundation* – not because I need the coverage, but because it does an amazing job at keeping the skin looking flawless, like real skin, soft and dewy.   I'm shade #002 – the perfect match I have been searching for my whole life.  For extra glow, I pair it with ESTEE LAUDER Illuminating Skin Perfecting Primer (RRP: $48 AUD) which smooths fine lines & gives skin a "lit from within" glow. Even after a long day at work, my skin still looks amaze-balls with this combo.
What's your secret to looking flawless in winter? Any rec's for a more affordable yet potent day cream?

*Products marked with an asterisk were purchased by me.  All other products were provided for consideration.

6 Responses to "3 changes that made all the difference this winter"