Brand: AB Makeup
Range: Liquid Lustre
Shade: Desire
Swatched by yours truly: akisa
Further to yesterday's swatch of AB Makeup Micro Bubble Lipstick in "Micro Mandarin", today I have Liquid Lustre in "Desire" which brings the sheer peachy creamy lipstick to life.
Available in 8 shades, Desire is a sheer peachy golden gloss that is the perfect finishing touch over a peachy or nude lip base – be it lipstick or lip pencil.
The lip gloss texture is very silky smooth & with absolutely no stickiness or tackiness at all.
Whilst the website says it's a plumping gloss, I don't feel any tingle but my lips do appear to be re-shaped slightly.   There are no smoothing effects on lip lines.
The taste is neutral, like the taste of the gloss formula rather than a deliberate attempt to create a signature scent.
Verdict: Whilst I love the pretty peachy golden shimmers and how it brings  a nude lipstick to life, for the formula to excite me it would need to do a better job of sculpting and smoothing lip lines.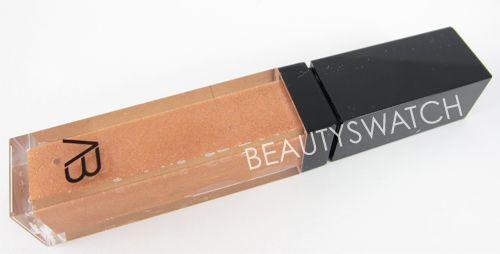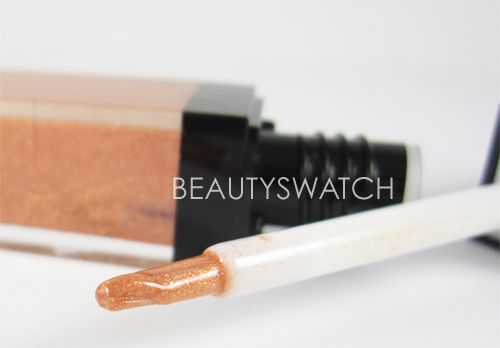 The swatch below is of the gloss on its own.
Lip swatch is of the gloss layered over AB Makeup Micro Bubble Lipstick in "Micro Mandarin"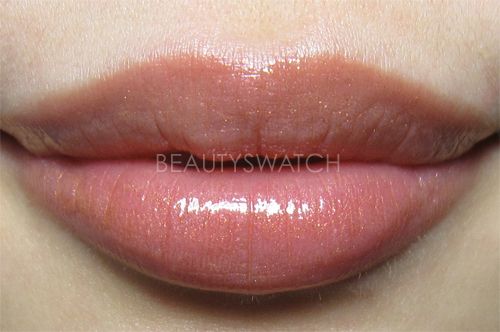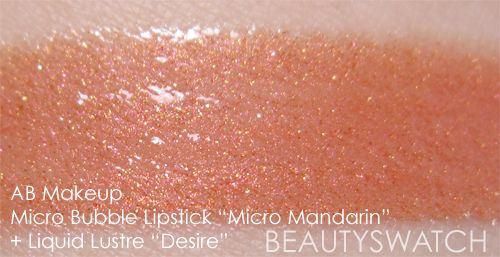 RRP: $27 AUD
Available online.
This product was provided for consideration.
2 Responses to "AB Makeup Liquid Lustre – Desire"