Brand: Burberry
Range: Lip Velvet
Shade: Fuchsia Pink #309
Swatched by yours truly:
Burberry Lip Velvet has a fabric-like semi-matte finish with a comfortable moisturising formula that's lightweight.
Whilst it's densely pigmented, the overall finish comes across as demure due to the diffused effect, making lips look "lived in".  It affects not only the main lip surface but also the lip lines so if you prefer a more polished edge, I recommend using a lip line to create crisper lines.
The packaging also comes in a matte finish compared to the glossy packaging of Lip Mists & Lip Covers.
Fuchsia Pink is not at all what I expected a shade of such a name to be – it turned out to be a rich cool toned red against my fair neutral skin tone.  The cool tones are not overbearing, making this shade versatile for all skin tones, as long as it's a red you're looking for.
Doesn't accentuate lip lines & has no discernible taste.
It's not overly matte or drying, but not moisturising enough to wear without hydrated lips so I recommend prepping lips with lip balm & removing excess once absorbed before applying Lip Velvet.
Verdict: The diffused effect of Lip Velvet makes this formula perfect for everyday or casual outings.   Recommended for those that want a softer wearable matte lip with a demure yet sophisticated finish.
Link Love: Check out Messy Wand's swatch of the entire shade range here.
Swatched over a layer of lip balm.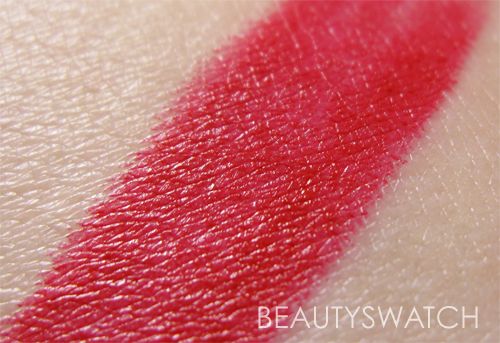 I purchased this product.
2 Responses to "BURBERRY Lip Velvet – Fuchsia Pink #309 – Reviews, Photos, Swatches"