Brand: BYS
Range: Lipstick
Shades: Pretty Little Thing, Half Time Oranges, Revenge
Swatched by yours truly: Yishan
If the thought of drugstore lipstick brings about images of subdued colours, think again – BYS lipsticks come in a range of both sheer and subtle colours as well as pops of on trend colour.
 Available in 24 shades, I got to try Pretty Little Thing (sheer shimmery nude), Half Time Oranges (orange glaze) and Revenge  (deep raspberry).
The other thing about the packaging is that the lipstick tip is still visible even when it's fully wound down.  I suppose it helps with seeing the colour through the transparent case.
The lipstick formula is quite simple – no noticeable taste and provides even coverage with good colour pay off.  As it's neither moisturising nor drying, I recommend applying it over lip balm for a smoother juicer finish.
Verdict: At only $3.95 AUD you get what you pay for in packaging, but this gets a thumbs up for balancing simplicity with on-trend shades.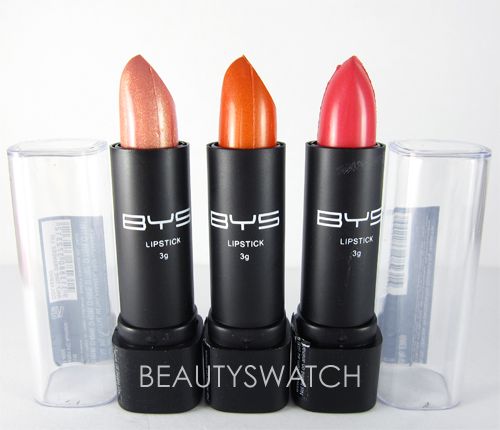 Swatched over Maybelline Baby Lips Lip Balm.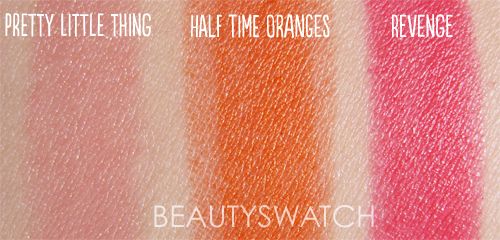 RRP: $3.95 AUD
Available in Australia at K-Mart, selected pharmacies and online through www.fashionaddict.com.au
These products were provided for consideration.
2 Responses to "BYS Lipstick – Pretty Little Thing, Half Time Oranges, Revenge"