Brand: Carmex
Range: Moisturising Lip Balm
Swatched by yours truly: Yishan
Carmex is well known and loved by many for it's cooling sensation (from camphor & menthol) whilst the cocoa butter formula that features salicylic acid helps to moisturise and gently exfoliate lip flakes.
Available in a jar or squeeze tube packaging, Carmex is great for everyday use and leaves a comfortable smooth silky and glossy finish.
The squeeze tub wins in terms of packaging for me, as it gives me better control on how much product I'm using (and I usually like to apply lip balm generously) and is more hygienic as well.
Verdict: Whilst menthol might not be suitable for sensitive lips, I find Carmex to be great as an everyday lip balm that does exactly as it promises.  It's certainly not the richest or most repairing lip balm out there, but the advantage Carmex has over most everyday lip balms is the salicylic acid that does its work during the day to gently exfoliate lip flakes so that they're ready to "lift off" by the time you jump in the shower or wash your face at the end of the day.  If you've read my previous post on lip exfoliation, you'll know that I am a huge fan of salicylic acid in lip balm as it's more gentle on lips than a lip scrub.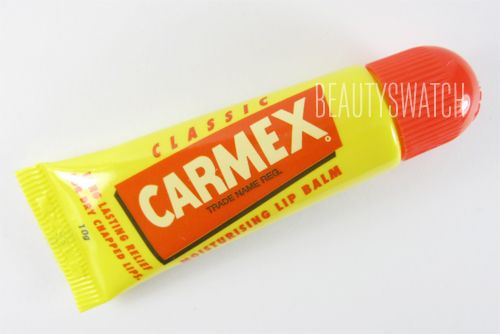 As you can see it's a simple formula that doesn't smooth the lip surface, but it does leave a glossy finish.
The squeeze tube lets me control how much I like to apply (and I like to slather it on) so I managed to get a glossier finish than I did from the jar.
RRP: $5.99 (Jar – 7g, Tube – 10g)
These products were provided for consideration.