Brand: Dolce & Gabbana
Range: Classic Cream Lipstick
Shade: Ruby #180
Swatched by yours truly: Yishan
D&G Classic Cream Lipsticks deliver boldly rich & long lasting colour, with a creamy texture that glides smoothly with moderate grip.
Moderate in moisture & doesn't smooth the lip surface, so I'd recommend lips with lip balm beforehand for longer lasting moisture.
The finish appears semi-matte if worn without any lip balm.
The scent is described as a "delicate powdery rose", reminiscent of the scent of makeup from the 1950's.
Ruby is a deep red that's neutral in tone with only the slightest hint of blue.
Verdict: Ruby is a very versatile shade that would look just as flattering on fair skin tones (as a deep red lip), as on medium / dark skin tones (neutral red).  But the formula doesn't excite me especially in comparison to Chanel Rouge Allure or YSL Rouge Pur Couture The Mats lipstick which are much more moisturising, and they both make my lips look a lot plusher & va va voom.   What this lipstick lacks in formula is made up for in the shade range – there are 43 shades to choose from!!
Swatched over a layer of lip balm.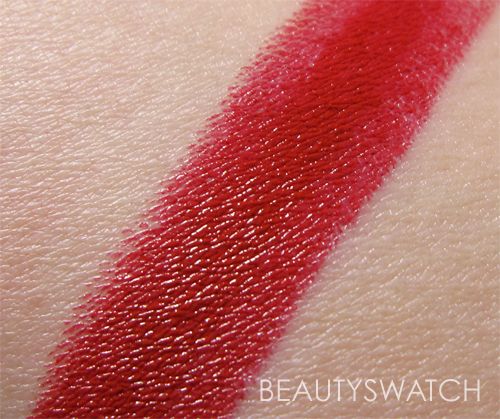 I purchased this product.