Brand: Estee Lauder
Range: Pure Color Sheer Matte Lipsticks
Shades: Demure, Rebel, Rock Candy, Naked
Swatched by yours truly: Yishan
Launched as part of Estee Lauder's "Pretty Naughty" collection, the Pure Color Sheer Matte Lipstick are a refined lightweight matte formula that leaves a satin finish with light reflecting pearls.
They hug the lips snugly upon application, and in just a sweep you get an ultra matte pigmented finish that instantly transforms your lip texture into a matte fabric-like texture.
Infused with fruit extracts that add moisture, and highly pigmented.
Available in 4 shades – Demure, Rebel, Rock Candy & Naked.
Verdict: I must admit, when I first heard about the launch of the "sheer matte" formula I was intrigued to try it as Estee Lauder's makeup are renowned for their sophisticated textures.  Despite looking pretty in the delicate slim packaging & swatching beautifully on my arm, this didn't work at all for my lip condition – which has a lot of lip creases and looks unforgiving in dry formulas.  Except for Demure (a deep pink), all other shades were also too pale against my flushed lip tone.  The only lip condition that I can imagine this working for is smooth lip surfaces (ie. younger lips) with a pale lip tone.
I didn't see any point in featuring unflattering lip swatches proving that it didn't work, so I shall leave you with pretty picture instead of how much better it looks in the packaging and on my arms.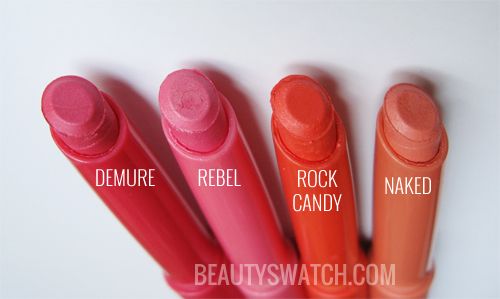 RRP: $45 AUD
This product was provided for consideration.