Brand: Givenchy
Range: Interdit Satin Lipstick
Shade: Rouge Cancan17
Swatched by yours truly: Yishan
Smooth & lightweight texture with a satin sheen that has moderate lasting power
Formulated with liquid crystals that melt upon application, softening the lip surface and blends easily giving medium coverage.
Enriched with Gold of Pleasure Oil and Senso-Oil to moisturise and keep the lip contours supple.
Rouge Cancan is described as a true red.
Verdict: I especially love how my lips look so supple after the lipstick is applied, making them look more pouty than usual.  However as soon as the moisturising ingredients in the lipstick are absorbed, the shade becomes less vibrant and what's left of the medium coverage leaves the edges look "lived in".  I recommend pairing this with a lip liner to help prolong the wear of this lipstick.  In comparison to Lancome Rouge in Love, Givenchy Interdit's pigment doesn't stay "true to colour" as well as Lancome does after wear, however this is slightly more moisturising and pigmented than Lancome.
It looks plump, bright and glossy when freshly applied. Once absorbed, the red looks a lot warmer and more "lived in".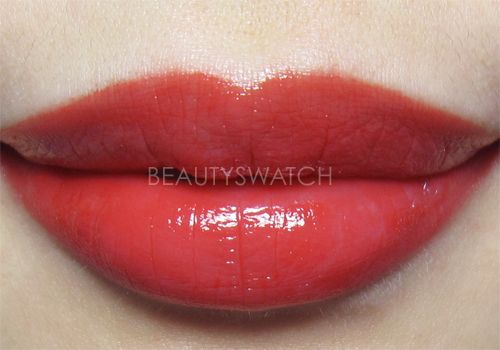 RRP: $47 AUD / $29 USD
I purchased this product.