Brand: Jane Iredale
Range: PureMoist Lipstick
Shade: Margi
Swatched by yours truly: Yishan
Jane Iredale's new PureMoist Lipstick range are an incredibly moisturising lipstick that's dresses lips in moist veil of rich pigment.
Formulated with organic pomegranate and blackberry fruit, and enriched with Orange Peel Wax, Avocado, Moringa oil and Sunflower Seed Oil to nourish and repair lips.  Also infused with Vitamins A & C and Cofee Seed Extract for antioxidant protection to retain moisture and elasticity.
The absence of lead, FD&C dyes, perfumes and all chemical synthetic ingredients means tit's safe to use on any skin – even post laser, Restalyne or Collagen injections.
The slim bullet makes application a breeze on the go.
Available in 24 shades, Margi is  a cherry blue red that can be layered into a richer red.
Verdict: Red lipsticks are nearly always synonymous with the notion of being "high maintenance", requiring a lip brush or even a lip liner.  But not Margi. What I love about this formula is that it's super easy to apply without needing any lip prep whatsoever.  No lip balm required, no lip liner required with the intense pigmentation of Margi, and a lip brush is useful only if you want it seamlessly blended into lip lines.   Two thumbs up for those that want an easy-to-wear red lippie.
I used a lip brush to smooth it into the creases but it's not really required.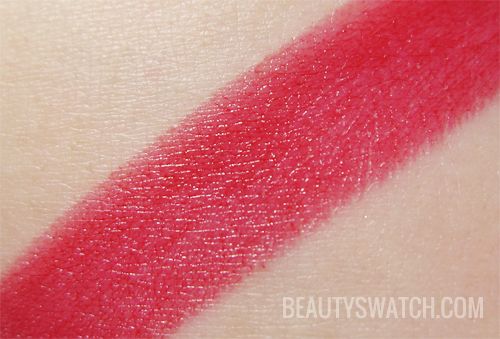 RRP: $40 AUD available  through selected salons, spas and medical practitioners.  For stockist info visit www.margifox.com.au
This product was provided for consideration.