Brand: Lipstick Queen
Range: Endless Summer Lipstick
Shades: Perfect Wave & Stoked
Swatched by yours truly: Yishan
Lipstick Queen's Endless Summer Lipsticks come in sheer pops of surf-inspired shades that add a burst of colour to brighten your look for summer.
Packed with punchy pigment yet sheer in colour, they're incredibly moisturising, leaving lips soft, glossy and feeling nourished thanks to natural oils, Vitamin E and Candelilla Wax for a smooth non-sticky texture.
I'm especially loving the vivid orange casing, a refreshing change from the signature Lipstick Queen packaging.
Available in 3 shades – Hang Ten (sheer nude), Perfect Wave (sheer pink), Stoked (sheer coral)
Verdict: After taking these out for a test drive on the weekend, I have decided that Perfect Wave is going to be "the summer lippie" for me this year.  It looks so fresh when paired with my typical weekend makeup of slick of eyeliner, mascara and a pop of blush.  I love that you don't need a lip balm beforehand as it's moisturising enough on its own leaving lips with a healthy moist sheen.  However as it doesn't contain any SPF, I do recommend layering on a lightweight SPF lip balm such as Maybelline Baby Lips SPF 20 or Blistex 5 Way Lip Protection SPF 30 when wearing this lippie out in the sun. Two thumbs up!!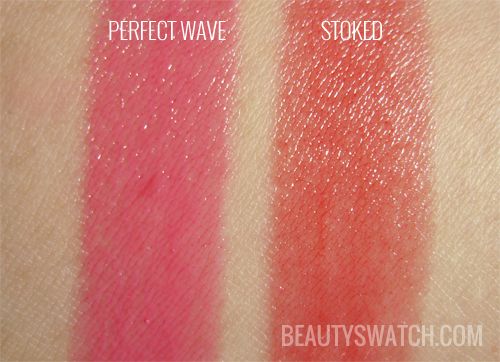 RRP: $32.95 AUD
Available in Australia at Kit Cosmetics
This product was provided for consideration.