Brand: Napoleon Perdis
Range: DéVine Goddess Lipstick
Shade: Aphrodite
Swatched by yours truly: Yishan
It's been 3 years since I last swatched NP's DéVine Goddess Lipstick in "Andromeda"!  It's a creamy lipstick that's packed with pigment that you can layer on to build coverage.
It does take several layers to build coverage to achieve an rich opaque red, but by layering it on with a lip brush you get a transfer-resistant finish that's long lasting and fades gracefully without any uneven patches.
Whilst it contains herbal extracts and antioxidants to care for your lips, it applies creamy but sets into a satin finish that's non-drying.
Available in 20 shades, Aphrodite is a classic blue red that's ultra glamorous and instantly whitens teeth.
Verdict: Thumbs up for a flattering shade of blue-red that suits most skin tones, and another thumbs up for being long lasting yet non-drying.  The only thing that doesn't rock my boat is the packaging. Given that it costs almost the same as Clinique lipsticks in Australia ($1 difference), I expect more than the bulky case & see-through plastic.  That said, Aphrodite will appeal to those that love a rich blue-red in a satin finish that's more forgiving than matte.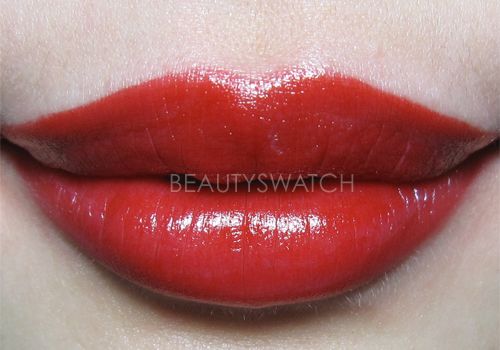 RRP: $35 AUD
This product was provided for consideration.