Brand: Uriage
Range: Bariéderm Soothing Repair Barrier Lip Balm
Swatched by yours truly: akisa
Made with Uriage's innovative patented Poly-2P complex, which helps with the speedy recovery  of damaged lips and instantly relief dryness.
Incredibly moisturising and lasts up to 4 hours.
Does an AMAZING job at speeding up the cell-turnover for natural exfoliation.  Lip flakes melt off in just a day of continuous application.
Fragrance-free, paraben-free, hypoallergenic
Perfect for everyone in the family, as this lip balm looks deceptively invisible but in actual fact is working hard to re-hydrate and repair lips
Verdict: This has surpassed all of my previous favourite lip balms, and together with Dr Lipp, these two are the bees knees in terms of both long lasting moisture, and their amazing ability to heal lips.  Uriage's is slightly more versatile than Dr Lipp as is it's completely unscented and invisible, making it more appealing to other family members and the slanted application helps with re-application on the go.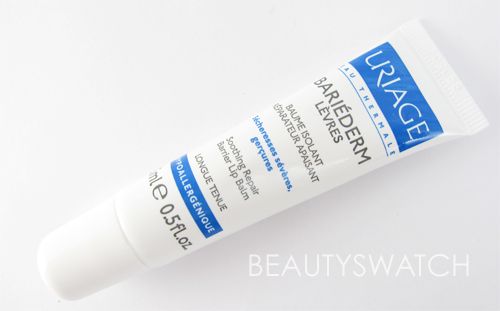 You can hardly see it on my lips, but believe me, it my lips feel super comfortable and drenched with a coating of airy moisture.
No matter how much I slather this on, it looks pretty much like the image below even though I can feel a thick layer on my lips.
RRP: $19.95 AUD (15 ml)
Available at selected pharmacies. To find out your nearest stockist, call Cosmetiques de France's Australian consumer number at (03) 9505 3086
This product was provided for consideration.