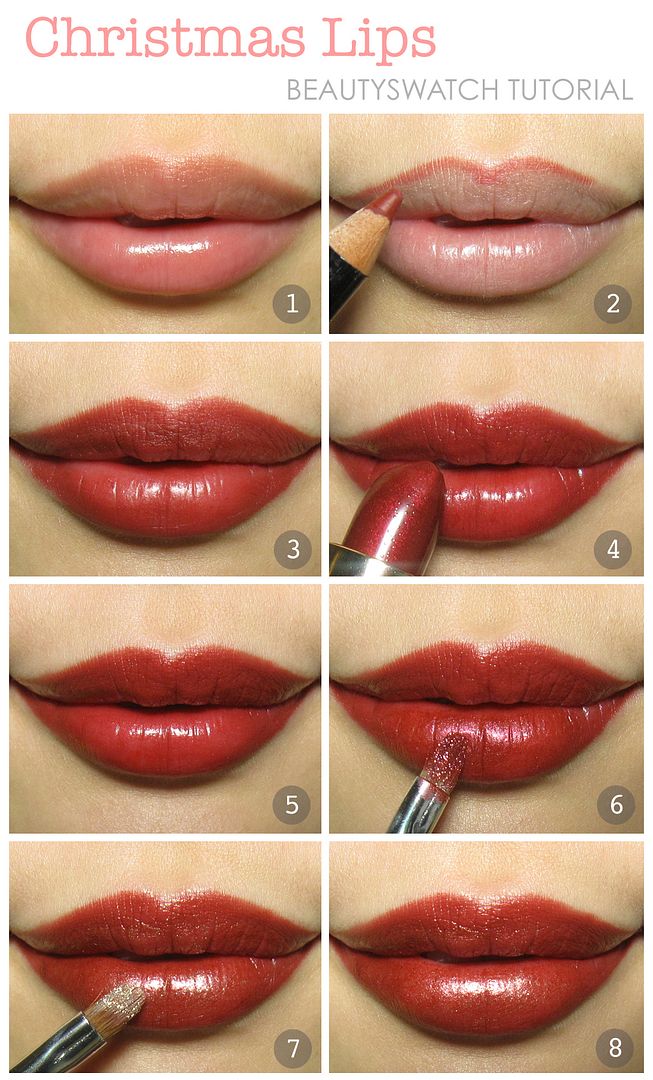 Spice up your red lip this Christmas with rusty red and gold pigments to add dimension.   In real life, this looks velvety, almost fabric-like and the gold/rusty red pigments glowed in every direction.  In this simple tutorial, I will show you how to achieve this festive look that will make your lips the talk of the town.
Prep lips with a moisturising lip balm that has minimal slip.  I used Maybelline Baby Lips in Cherry Velvet (out in January 2012).
Conceal lips with foundation using a sponge.  I used Face of Australia Mineral Therapy Liquid Foundation in shade Beige.
Fill your entire lips with a deep red lip pencil using light strokes.  I used Bobbi Brown Lip Pencil in Sangria.
Fill the outer edges of your lip with a deep red hydrating lipstick using a lip brush.  For added dimension, choose a lip shade that already light shimmers.  I used Bobbi Brown Lip Colour in Jewel Red.
Optional: Apply a classic red lip shade to the centre of lips for a gradated effect.
Apply red metallic pigment to the centre of both top and bottom lips & blend well.  I used MAC Glitter Pigment in "Reflects Rust".
Press gold glitter to the centre of the bottom lip only & blend.  I used RMK Ingenious Eyes ME-02 (Gold glitter eyeshadow).
Apply a tiny amount of gold shimmer to the cupids bow to add dimension & create  volume.
Clean up any uneven edges with a q-tip dipped in eye makeup remover & refine the lip line with either foundation or lip pencil.
* * *
 Wishing you all a Merry Christmas & Happy New Year!
This will be my last blog post for 2011.
I will resume blogging in February 2012 once I return from my holiday overseas!
Thanks so much for your support towards Beauty Swatch & I hope to see you back next year~
This entry was posted on Thursday, December 22nd, 2011 at 6:00 AM and is filed under HOW TO.
You can leave a response, or trackback from your own site.
7 Responses to "Christmas Lips Tutorial"