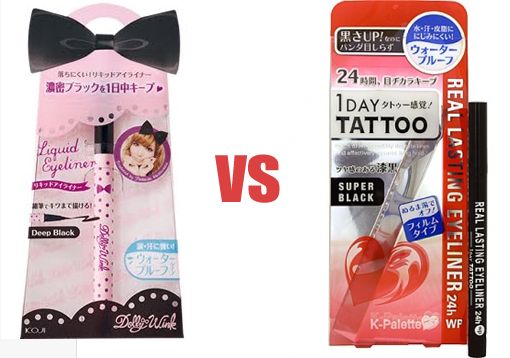 This is a short comparison review of two smudge-proof liquid eyeliners that I love.  However one of them lived a fleeting life in my "Holy Grail" hall of fame, and was out throned by an unsuspecting contendant.  Don't get me wrong – both are still very good, but I love one of these just a whole lot more.
Dolly Wink Liquid Eyeliner
Pros
Adorable girly pink & black polka dot packaging
Fine felt tip
Long lasting & smudgeproof
Under $20 AUD
Cons
After about 2 months of use, the felt tip begins to fray & although there's plenty of ink left, it becomes increasingly difficult to draw a sharp flick
The ink moves a little when wet, as seen in the swatch comparison further below
K-Palette 1 Day Tattoo Real Lasting Eyeliner
Pros
Ultra sharp felt tip (K Palette also has an even thinner felt tip if you want pencil thin lines)
Long lasting & smudgeproof
Under $20 AUD
Even after 3 months of use, the felt tip is still sharp (see pictures below)
On direct application, the wet ink stays put better than Dolly Wink (see swatch comparison below)
Cons
Plain packaging, on the verge of boring
2 months old vs. Brand New K-Palette liners. Need I say more?
It's not hard to see why K-Palette is a winner on all aspects (maybe except for packaging). If you already own a Dolly Wink liner, make it your last one & try K-Palette next time.   For those that still want to give Dolly Wink ago, I have pasted some links below where you can find these online.
Have you tried K-Palette liquid eyeliners?
Do you know of any liquid liner that does a better job than this?
Both products were purchased with my own money.
7 Responses to "Dolly Wink Liquid Eyeliner vs. K-Palette 1 Day Tattoo Real Lasting Eyeliner"