Brand: Edward Bess
Range: Ultra Slick Lipstick
Shade: Night Romance
Swatched by yours truly: akisa
Ultra Slick Lipsticks – the product that shot Edward Bess to fame – are super creamy, moisturising, smoothing and long wearing.
Available in 16 shades, Night Romance is described as a "rich raspberry mousse" – a great everyday colour for pigmented lips.
The scent is described as "wild fig", a delicate sweet scent that is less fig-scented Estee Lauder lip products.
At initial application it's very glossy, and once absorbed it becomes demi-matte with a hint of shine.
Feels luxuriously comfortable on the lips, with its intense hydration and soft creamy texture.
The smooth texture doesn't crease on lip lines, but as with all creamy lipstick it does accentuate lip flakes so make sure you exfoliate beforehand.
Verdict: This is a pure creamy lipstick that delivers on all its promises – pigment, moisturising, smoothing and long wearing.  You only need a small amount to achieve medium-full coverage with amazing pigment, and the only time you'll ever need to touch up is after meals.

Note: The revamped Edward Bess lipsticks now come in square shaped pacakaging.
Swatched over a thin layer of Maybelline Baby Lips Lip Balm.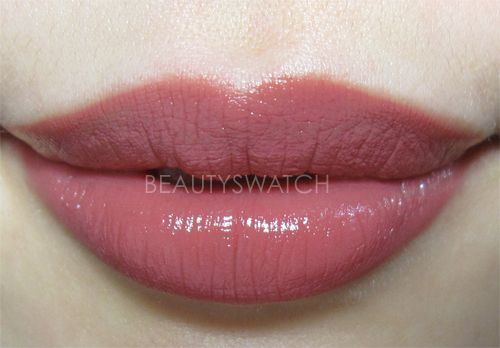 The lighting makes the shade on my lips look muted, but on my pigmented lips the finish is closer to my arm swatch.
RRP: £ 24.00 + shipping
I purchased this product.