Brand: Estee Lauder
Range: Pure Color Sheer Rush Lipshine & Gloss
Shade: Poppy Shock
Swatched by yours truly: Yishan
Estee Lauder Pure Color Cello Shots collection is a playful collection of shots of cellophane-sheer gel colour for lips and cheeks.
The textures in the collection feature soft gels, and water-light finishes for a subtle glow of fresh vibrant colour.
The Lipshines are packaged in a shade-matched slim-line lipstick case with a slant tip for easy application.  Each shade is paired with a Gloss in the same shade that gives lips a high shine gel finish that provides a cushion-like feel on lips.
I got to try Poppy Shock - a vibrant coral that's amplified when you combine the Lipshine & Gloss together.   On its own, the Lipshine is a lovely tint of colour that's the equivalent of cream blush for lips.
Verdict: Whenever Estee Lauder releases lip shades with a matching gloss, I always know that the combination of the two delivers a stunning finish. The Pure Color Cello Shots collection is no exception, with the Lipshine & Gloss delivering that "cellophane" effect that brings it all together. Poppy Shock looks best on warmer skin tones,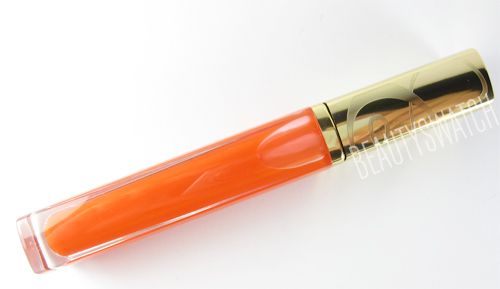 Which of the three finishes do you like the most?

RRP: $45 AUD (Lipshine), $42 AUD (Gloss)
These products were provided for consideration.
2 Responses to "ESTEE LAUDER Poppy Shock Pure Color Sheer Rush Lipshine & Gloss Reviews, Photos, Swatches"