Brand: Hourglass
Range: Opaque Rouge Liquid Lipstick
Shade: Empress
Swatched by yours truly: Yishan
A full-coverage liquid lipstick that's richly pigmented & sets into a dry matte velvet finish.
Promises to deliver 14 hours of continuous wear without flaking or dryness, thanks to a blend of advanced polymers that deliver exceptional longevity.
The formula is very rich and glides on easily but dries very quickly so you have to keep a steady hand.  There's no need to blot as it sets so quickly & it also doesn't feather.
Whilst it contains skin-conditioning emollients, antioxidant fruit extracts, cili fruit, goji berry, and vitamins A, C and E, I wouldn't describe it as moisturising .  The ultra matte texture requires a conditioned lip to start with, and whilst my lips stayed consistent throughout the day, it was on the dry side and clearly not as moisturising and softening as Guerlain L'Extrait.
It's also transfer resistant, which means using a tissue only removes 30% of the lipstick (unlike Guerlain which can be easily wiped off with a tissue).
Fades gracefully over the course of the day, and the remainder of the lipstick is easily removable with a makeup remover, such as Bioderma Crealine H20.
Despite the packaging making it look as though it contains hardly any product, it contains 3 grams which is not far off from Hourglass lipstick (3.5 grams)
Empress is described as a deep aubergine shade.
Verdict: Hourglass was equally long lasting and pigmented as Guerlain, but not as moisturising and soft in texture due to the ultra matte finish.  The lack of shimmers also makes it more dramatic as a contrasting block colour matte lip.   Overall I still love it anyway, as it's a gorgeous deep berry matte lip perfect for fall.
Link love: Also check out Glitter Geek's swatch of shade Empress, it looks gorgeous against her warm skin tone.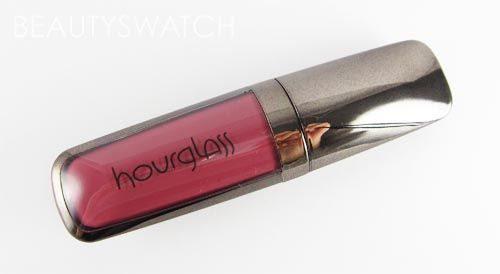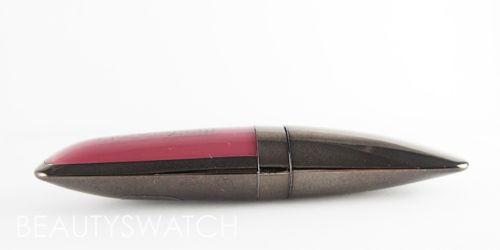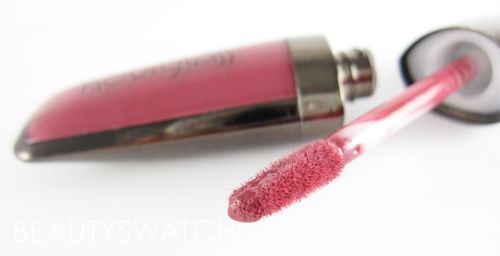 The finish is more fabric-like compared to yesterday's review of  Guerlain Rouge G de Guerlain L'Extrait.
My cupids bow isn't symmetrical because the liquid lipstick set so quickly I didn't have time to correct it!
There's also no shimmers giving it a true matte finish.
I purchased this product.
3 Responses to "HOURGLASS Opaque Rouge Liquid Lipstick – Empress – Reviews, Photos, Swatches"