Brand: Jane Iredale
Range: PureGloss™ (New formula)
Shades: Sugar Plum, Candied Rose, Iced Mocha
Swatched by yours truly: Yishan
Jane Iredale has revamped its lipgloss range with their new and improved PureGloss range,  with a refreshed formula and sleek new packaging that now contains 35% more product in each tube.
The texture feels tacky like a lacquer with a strong grip & sculpting properties that revive my tired lips into a voluminous sculpted & smooth pout.
It doesn't glide as smoothly as other glosses, but the lacquer finish is nevertheless easy thanks to the curved doe wand that fits the curve of my lips perfectly.
Long-lasting high shine finish.
Petroleum free formula, with key ingredients such as Moringa Butter, Orange Peel (hydrating), and Blackberry and Pomegranate extracts that double as anti-oxidants as well as leaving a pleasant flavour.
Available in 18 shades, Sugar Plum is a sweet peony pink with sparse shimmers, Candied Rose is is a shimmery rose gold, and Iced Mocha is a shimmery gold brown.
The shimmers – particularly in Candied Rose & Iced Mocha really glimmer under lighting and give lips added dimension creating the illusion of a full pout combined with the sculpting properties of the lacquer.
Verdict: The lip swatches were taken towards the end of a swatching session & my lips were feeling worse for wear & looking rather withered.   It just took a slick of  Jane Iredale's PureGloss to revive my tired lips into a voluminous & healthy sculpted pout that felt soothed as well.  This is definitely my favourite lip product out of all the Jane Iredale lip products I have reviewed to date, and I highly recommend it for anyone that wants a product that instantly sculpts their  lips into a voluminous pout without the need for any tingly ingredients.
Shades: Sugar Plum, Candied Rose, Iced Mocha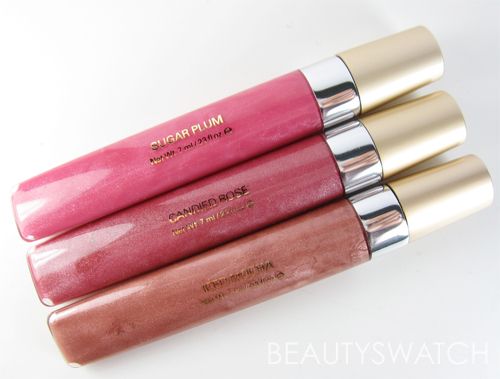 The doe wand applicator is slightly curved to fit your lip shape perfectly.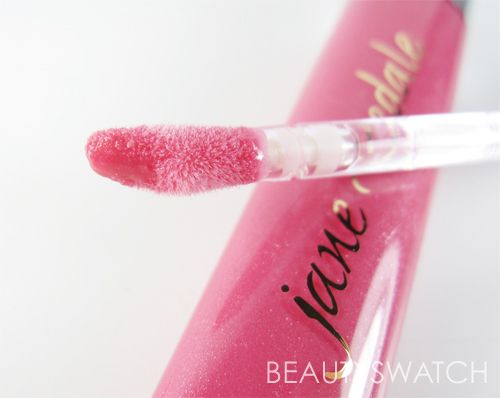 Click to view enlarged lip swatches.
RRP: $44.00 AUD.   For stockist info visit www.margifox.com.au or call 1300 850 008.
These products were provided for consideration.
2 Responses to "JANE IREDALE PureGloss™ – Sugar Plum, Candied Rose, Iced Mocha – Reviews, Photos, Swatches"