Brand: Chanel
Range: Rouge Allure Velvet
Shade: L'Exuberante #37
Swatched by yours truly: akisa
Described as "luminous matte", Rouge Allure Velvet is enriched with ultra-thin mother of pearls, and is possibly the most moisturising and comfortable matte lipstick out there.
Lips stay velvety matte without being unkind to lip lines & lips don't dry out even after few hours.
Although it is very very lightweight, I couldn't go as far as calling it "weightless" as you do feel the velvet finish.
Very impressed by the minimal kiss-off on coffee cups, and fades gracefully into a pink stain after a few hours without looking patchy.
Available in 8 shades, L'Exuberante is in between a rose & fuchsia pink.
Comes with a "one click release" packaging so your lipstick is safe on the go.
Verdict: Holy Grail matte lipstick – hands down.  My favourite way to wear this lipstick is a sheer pink stain during the day, and amp it up with another layer at night.  For longer lasting moisture, I recommend prepping lips with lip balm before applying it & you won't need another slick of lip balm until you are ready to touch up, which for me is around 3-4 hours later with meals.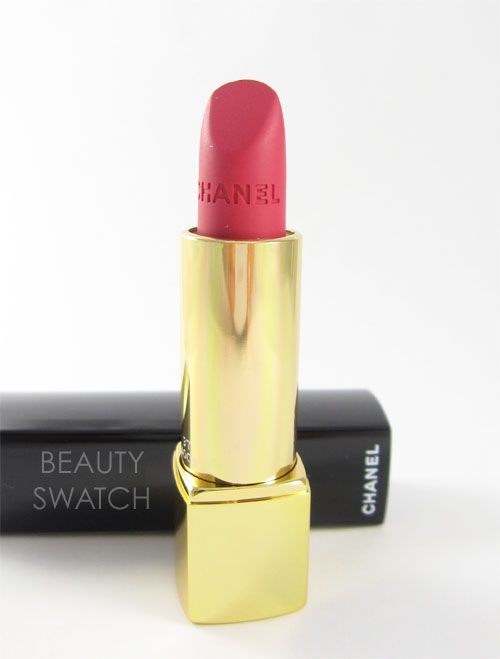 Press the gold tip to lock the lipstick in.  Press again to release.
Swatched over a thin layer of Maybelline Baby Lips Lip Balm.
After a few hours of wear, it fades into a velvet matte stain that doesn't look the slightest bit parched.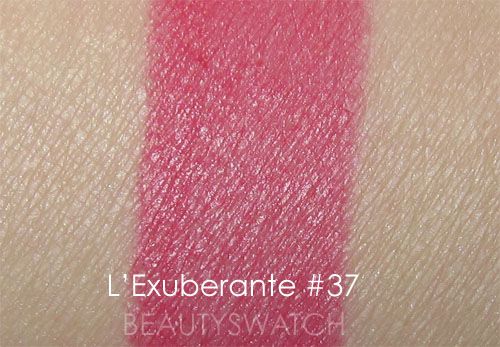 I purchased this product from duty free. 
9 Responses to "CHANEL Rouge Allure Velvet – L'Exuberante #37 – Reviews, Photos, Swatches"