Brand: L'Oreal Paris
Range: Colour Riche Anti-Age Serum Lipstick
Shades: Sparkling Rose (S105), Radiant Orange (S402), Pearly Praline (S303)
Swatched by yours truly: akisa
Formulated especially for women over 40, this lipstick features an anti-aging serum in the core, with anti-aging ingredients such as Hyaluronic Acid, Collagen and Pro-xylane, to restore moisture and firmness to the lips.
Also contains omega 3 and Vitamin E as a protective barrier to prevent lips from drying out.
Available in 15 shades, I got to try 105 (Sparkling Rose), 402 (Radiant Orange) and 303 (Pearly Praline).
Feels buttery smooth on lips & leaves lips with a healthy shine, helped by the fine light reflecting shimmers.
I found the lip-line smoothing properties moderate for a lipstick aimed at women over 40, however it does soften the appearance of lip lines, and the nourishing ingredients revive lips from looking flat and tired into moisturised and supple.
The taste of this lipstick is a let down – I can't put a finger on it, other than to say that it tastes like synthetic fragrance.
Verdict: As gorgeous as the shades are, I'm afraid this lipstick is getting a lukewarm review, more so from the expectations it created in my mind when it is supposedly for women over 40.  Whilst I can feel my lips feeling soothed by the anti-aging ingredients, I would love it more if it tasted better and smoothed lip lines more.

Swatched over a thin layer of Maybelline Baby Lips Lip Balm & applied with a lip brush to create full coverage.
It's actually a lot sheerer when applied directly from the bullet.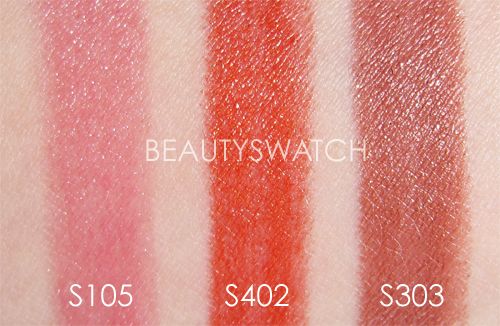 RRP: $26.95 AUD
These products were provided for consideration.
One Response to "L'OREAL Colour Riche Anti-Age Serum Lipstick – Sparkling Rose, Radiant Orange & Pearly Praline"