Brand: L'Oreal Paris
Range: Shine Caresse Lip Colour
Shades: Lolita 101, Romy 102, Marilyn 103, Princess 200, Juliet 300, Eve 400, Milady 402, Bonnie 501.
Swatched by yours truly: Yishan
L'Oreal Paris Shine Caresse Lip Colours have an ultra-light fluid texture, that is a unique formulation of 30% water and 60% oil that boosts lip hydration and is comfortable to wear.
The foam applicator has a hole in the centre, specially designed to remove any excess colour leaving a veil-like lustruous finish.
The formula takes a while to set, making it easy to fix bloopers while it is still wet.
Sheer buildable coverage – 2 layers is perfect for my pigmented lips, but for some shades I needed around as many as 3 layers for photography purposes.
Available in 8 shades – Lolita, Romy, Marilyn, Princess, Juliet, Eve, Milady and Bonnie.
Are these dupes of YSL Glossy Stain?
Both have lightweight fluid textures that have a non-sticky but slightly tacky finish.
Both are long lasting and fade gracefully into a light stain, but YSL lasted slightly longer whilst L'Oreal left more of a stain.
YSL sets quicker than L'Oreal where you're left with that oil/water film that takes just a few more seconds to set.
YSL has a more vibrant colour range & is richer in pigment but it's offset by a water colour finish. Except for a few, most shades from L'Oreal are more subdued and need several layers to build coverage.
YSL's taste is noticeably synthetic, whereas L'Oreal has sweetened theirs slightly in an attempt to mask the synthetic taste – but I can still taste it.
YSL does a better job at reviving tired dry lips & camouflaging lip flaws than L'Oreal, which only looks best on healthy lips.
Verdict: With both lip stains coming from the same umbrella company (YSL Beauty is owned by L'Oreal), it's tempting to draw conclusions that they are dupes for each other.  I'd say that L'Oreal offers very impressive & similar results to YSL but I wouldn't go as far as saying that one is replaceable for the other.  Where L'Oreal stands out from YSL is how easy it is to control just the right amount & it stains better than YSL if that's what you like in a lip product.  Even though YSL has more sophisticated pigments, L'Oreal's finish (once set) is more polished than the water colour finish of YSL that I find messy when combined with shades such as red & coral  hence why I only own one shade from YSL Glossy Stain).

Click on the lip swatches to view enlarged images.
Click on the lip swatches to view enlarged images.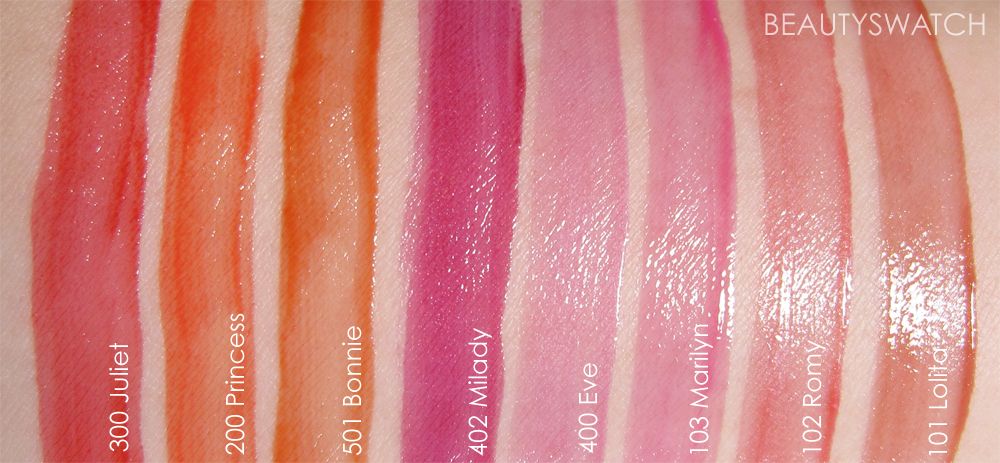 RRP: $23.95 AUD
These products were provided for consideration.
6 Responses to "L'OREAL Shine Caresse Lip Colour & comparison with YSL Glossy Stain – Reviews, Photos, Swatches"