Brand: NP Set
Range: Gloss and Go Duo
Shades: Palm Beach & Venice Beach
Swatched by yours truly: Yishan
NP Set Gloss and Go Duo comes with a clear lip gloss and a long wearing lip stain available in 2 shades – Palm Beach (shimmery peach) and Venice Beach (pink coral)
The lip stain applies like a lip lacquer, and on its own it looks pretty average, but the moment the clear gloss is layered on top the colour immediately becomes more vibrant.
Although it contains Vitamin E to nourish lips, I wouldn't say that the lip stain feels particularly moisturising, nor is it drying either.  The gloss however does adds a cushiony comfort to the lips.
Verdict: As testament to how budge proof it is, Venice Beach was really difficult to remove, requiring several rounds of heavy duty makeup remover like Biodemra or Clinique Take the Day Off to remove all traces of the vibrant pink colour.  This will appeal to those who love a fresh summer look with the "clean eye look" accentuated by a punchy lip colour.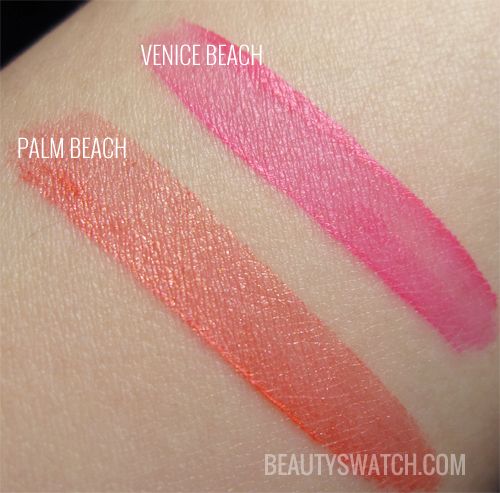 RRP: $15 AUD
This product was provided for consideration.