Brand: Chanel
Range: Rouge Coco
Shades: Liaison 49, Sentiment 48 (Avant Première de Chanel Collection for Spring 2013)
Swatched by yours truly: Yishan
From the 1930s and throughout her life, Mademoiselle Chanel was courted by film directors in both France and Hollywood to create costumes for some of the most beautiful stars of the time.  Collection Avant-Première is Peter Philips' homage to the classic movies which showcased her creations. Rouge Coco's are a collection of contemporary, feminine lip colours styled on the philosophy of Mademoiselle Chanel: easy to wear and free of constraint.
Rouge Coco lipsticks glides smoothly with a creamy finish, and are surprisingly lightweight despite its vibrant pigment.
Incredibly comfortable to wear thanks to Hydratendre complex that softens, soothes and conditions lips, making them look plump and smooth.
Although it's moisturising enough that you don't actually need any lip balm underneath this lipstick, I found that since the shades are so nude I need a slick of lip balm to soften any signs of dryness as pale shades tend to accentuate lip flaws.
Finishes range from matte to pearl to soft shimmer
Compared to Rouge Allure, Rouge Coco is more moisturising and slightly less opaque, however Rouge Allure gives lips a bolder & plush appearance.
The Spring 2013 collections has added 6 new shades to the range – Sentiment (natural beige with peach tones), Liaison (soft satiny pink), Ce Soir (plum brown), Grace (Rosewood with copper accents), Amant (half tone orange red), Le Baiser (deep pink with golden shimmer).
Verdict:  Even on my flushed lip tone, both Liaison and Sentiment dress my lips in sophisticated nudes that catches just enough light to make it look lively without looking washed out due to the demi-matte finish.   On a fair lip tone, coverage won't be as much of an issue, however I find that a slick of liquid lipstick or gloss does the trick in smoothing out any unevenness against my flushed lip tone & keep it moisturised for longer.
Liaison #49 – soft satiny pink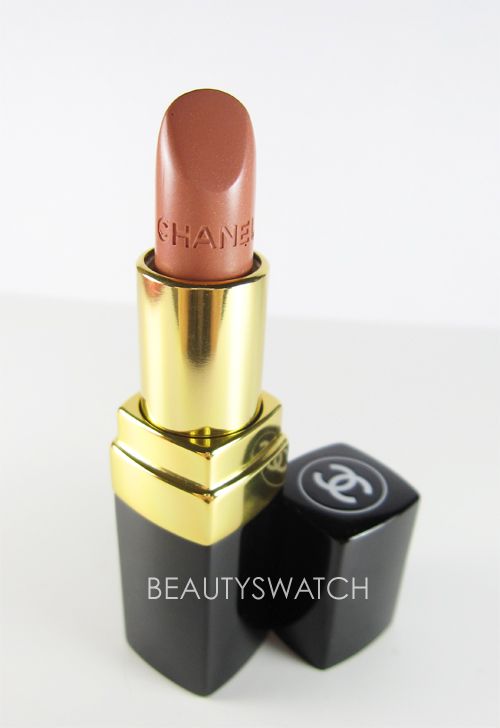 Sentiment #48 – natural beige with peach tones
Swatched over a layer of Nivea Lip Butter.  The coverage is heavier if you apply directly onto lips without lip balm.
I'm wearing Liaison topped with Coffret D'or BU Rouge PK-262
RRP: $50 AUD
These products were sent for consideration.