Brand: BYS
Range: Mega Shine Lipgloss
Shades: Watermelon, Bubbalicious
Swatched by yours truly: Yishan
Available in 17 shades, BYS Mega Shine Lipglosses are very smooth with a high shine finish.
Sheer coverage with a hint of colour that's more noticeable with Watermelon despite what you'd guess from looking at the tube & skin swatch.
Very emollient, almost liquid in viscosity.  In fact Bubbalicious was a little runny, which I was a bit suspicious of (despite its name) as there shouldn't be that many bubbles in a lipgloss tube!
Verdict: Watermelon was an easy-to-wear sheer pink gloss with a hint of shimmer that's affordable for only $3.95 AUD.  As for Bubbalicious, not only were the bubbles worrying, the purple hues weren't really effective in adding a lilac wash to my lip tone. Nevertheless it's an affordable gloss in a hygienic squeeze tube great for those who don't want to spend a lot for a glossy lip.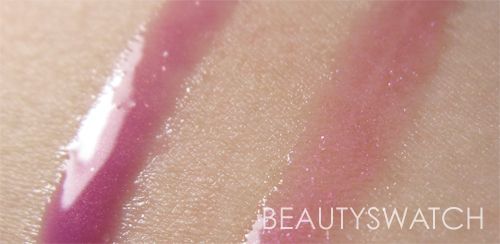 L-R: Bubbalicious, Watermelon
RRP: $3.95 AUD
Available from K-Mart, selected pharmacies or online through www.fashionaddict.com.au

These products were provided for consideration.