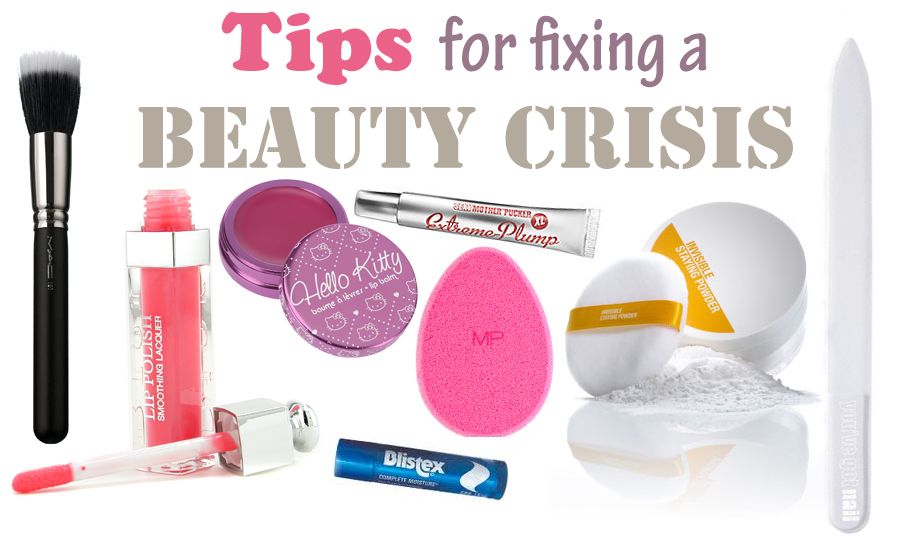 We've all gone through a beauty crisis before at some point.  With only minutes left to head out the door, or spruce up before an after-work event, your foundation decides to flake, your eyebrow makeup refuses to blend, or perhaps your lips are flaking so badly that you feel like a phony beauty blogger.   Beauty emergencies are easy to fix if you have the right tools on hand. Here are some of my tips to get you out of a beauty crisis.
Crisis #1 – Your skincare or foundation is flaking and you have no time to re-apply
No matter how well or recent you may have exfoliated, skincare and foundation can still ball up if the textures don't compliment each other.  To prevent flaking, press and pat in skincare using light pressure and avoid excessive rubbing.  If flakes still appear, use a flat sponge (eg. Models Prefer Multi-Purpose Sponge) or a stipling brush (eg. MAC Duo Fibre Brush #187) to gently sweep them off.    I find that stippling brushes are more effective at removing flake without smudging the rest of the base makeup, whereas sponges are useful for blending & pressing in the rest of the makeup once the flakes are gone.
Crisis #2 – Your eyebrow makeup refuses to blend & turns into a muddy mess
This occurs if your brow area has excess oil or moisture from skincare or base makeup.  Apply loose powder to mattify the brow area, before applying brow makeup.  I also recommend filling in brows with brow powder first, and if you need extra definition, use a brow pencil to define the edges and fill any remaining gaps.  Finish off by using a brow brush to create a wispy natural finish. I find using a brow pencil for the entire brow looks less natural and is more prone to looking muddy when things go wrong.
The best powder I've come across to date is Invisible Zinc  IZ™ Staying Powder (previously reviewed here). It's invisible, matte and never cakey or dry, creating the perfect canvas for effortless blending of other powder products.
Crisis #3 – Woops! You've contoured too far down your cheek
If your face is as round and flat as mine, it's not that easy to know when it's time to stop blending, especially when you're still half asleep in the mornings.  An idiot proof tip I recommend is to apply contour powder in a sharp line along your contour line. If you have a round, flat face like mine, do a "fish face" and apply along the edge of the hollow contours.  Once you have a sharp line defined, blend downwards up to about 1 inch or less depending on the size of your cheek.   If you manage to fail this idiot proof tip and over-apply, re-apply base makeup from the jawline upwards to re-define the contour from the bottom up.
Crisis #4 – Your lips were fine in the morning, but are dry and flaky by the afternoon
I suffer from flaky lips more often than you think, and the worst timing has got to be when it happens right before a beauty related event.   Lips look their best when maintained daily (especially night time), but if you find yourself in a dry flaky rut that's caused by the elements, here are some products I recommend for a quick fix:
Crisis #5 – Fixing chipped nails on the go 
Just as I was writing this, I saw PRIMPED's post on "How to Fix a Chipped Nail" which went to extreme lengths requiring you to dip fingers in vinegar and re-apply base/top coats to fix a chipped nail.  That's great if you're at home, or if your work desk is literally a beauty station.  Or if your colleagues don't get offended by the aroma of vinegar and polish.  Instead I rely on You've Got Nail's Travel Nail File, which I keep at my work desk for filing chipped or split nails.  It's only 9cm long, almost the same length as lipstick, and made of glass so it'll last you a lifetime.   Oh – and please – never EVER file your nails in public transport.  It's about as disgusting to everyone else as it is peeling off the callous of your foot and flicking it in public.
 What are your tips for fixing a beauty crisis?
Leave your favourite tip n the comments below!
2 Responses to "Tips for Fixing a Beauty Crisis"