Brand: Tom Ford
Range: Jasmin Rouge Lip Color Collection
Shades: Cherry shades – Slander (pearl), Narcotic Rouge (matte).  Crimson shades – Reckless (pearl), Diabolique (matte)
Swatched by yours truly: Yishan
When Tom Ford re-launched their lipstick line in the now-signature mahogany brown & gold cases, one of the first things I noticed was the limited choice of red lipsticks in the range.
Fast forward to today, and I'm pleased to unveil the limited edition of four red shades, inspired by the decadent and voluptuous fragrance of Jasmin Rouge.
The collection features 2 shades of cherry red – Slander (pearl) and Narcotic (matte), and 2 shades of crimson – Reckless (pearl) and Diabolique (matte)
As with the re-formulated Tom Ford lipsticks, they apply as though they were luxurious lingerie with unparalleled pigment with a soft, smooth & moisturised finish that's long lasting.
The difference in shades and finishes look subtle from looking at the bullet, and are only revealed once on lips.
Verdict: Unlike other brands, Tom Ford's interpretation of pearl finish is more of a subtle sheen making it more alluring under light.  Despite being a die-hard matte lippy lover, there's something about the combination of the luscious rich red & sheen that makes my heart lean slightly towards Slander, and I'd reserve Narcotic Rouge for days I want my lips to pop. Reckless and Diabolique are more suited to warmer skin tones – the former is lovely neutral warm red suitable for daytime, and the latter great for amping it up for a night out.  A must-try if you're serious about red lips.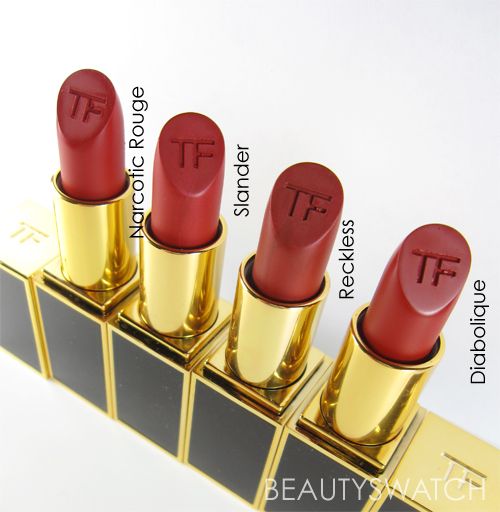 Narcotic Rouge is a bright matte blue red.  Slander is a decadent classic red with a subtle pearl sheen.

Both Reckless and Diabolique are warmer, richer reds.  The pearl finish in Reckless softens the warmth in the shade, making it great for everyday wear.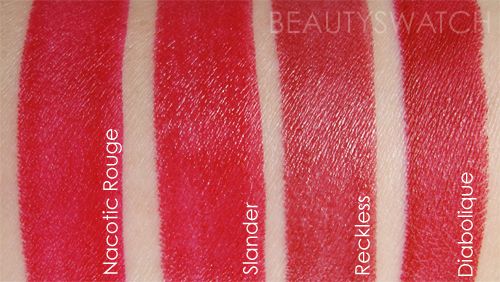 RRP: $65 AUD
These products were provided for consideration.
2 Responses to "TOM FORD Jasmine Rouge Lip Color Collection – Reviews, Photos, Swatches"