Brand: Too Faced
Range: Lip Injection Extreme
Swatched by yours truly: akisa
Lip Injection Extreme is for those that don't mind a fair bit of tingle in exchange for long lasting plumping effects
Scientifically proven to increase lip volume and plumpness permanently with continued use, this serum is to be used both morning and night together with your skincare routine.
After applying onto clean dry lips, wait one minute before applying lip colour to allow it to absorb into lips.
This lip plumper is not for the faint hearted & I recommend it only if you're really

serious

about plumping lips.
It doesn't just tingle, it actually hurts for around 1-2 minutes before it reduces to a tingle.  It's so strong that if you accidentally smear this on your face it'll leave red  patches that disappear after a while.
Verdict: Pain aside, this is strong stuff. 6 hours later (after meals and wiping off several lip swatches) my lips are still fuller than they were before application.  Recommended for those that prefer to enhance their lips naturally instead of  injectables.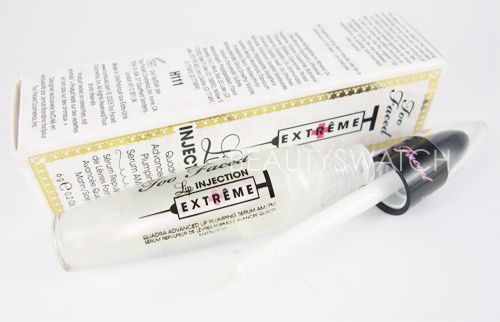 Would you be willing to put up with more than just a tingle for a plump pout?
RRP: $51.95 AUD
This product was provided for consideration.
6 Responses to "TOO FACED Lip Injection Extreme – Reviews, Photos, Swatches"